When Robert Elwes (1819-1878) published his work "A Sketcher's Tour Round the World" in 1854 it was welcomed by the critics as "combining the best qualities of a library volume with that of a gift book, choosing the grandest and most beautiful scenery for the exercise of his pencil". "A Sketcher's Tour Round the World" contains an account of Elwes' voyage of some 36,000 miles in two and a half years 1848-1850, illustrated with a mere 21 tinted lithographs from his watercolours.
We will never know how many watercolours were painted by Elwes as the bulk of his collection perished in the fire at Congham House in 1939 – the Norfolk country home he built on his return to England. Fortunately, his daughters had kept a quantity of their father's paintings and their descendants have generously shared these images – many of which are illustrations of the world tour.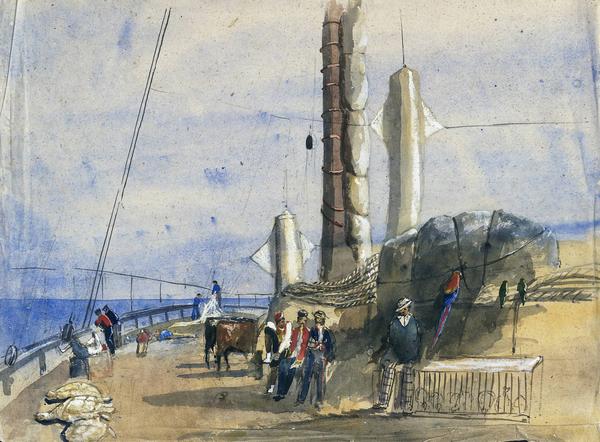 Courtesy of a private collector | All Rights Reserved
—
Here, Elwes depicts himself on-board ship dressed in his distinctive black-and-white checked trousers, seated on a chicken coop (ship's provisions). Cattle are eating hay on the deck and a tropical Scarlet Macaw sits near Elwes' shoulder. The mainsail is lashed to the mast between two early air conditioning funnels. It is a calm day.
South America was Robert Elwes' principal destination. After visiting Rio and Buenos Aires he travelled 1000 miles across the Pampas on horseback and over the Andes by mule where he spent one night sleeping under a massive boulder.
Courtesy of a private collector | All Rights Reserved
He then travelled to Lima and thence to Hawaii and Tahiti. Nearing the coast of Australia, his ship "The Elizabeth" (referred to in his text as "The Caroline" for fear of being sued by the ship's owners) ran aground and he and his fellow passengers were rescued by sealers and later taken to Hobart, Tasmania with a cargo of sheep.
Courtesy of a private collector | All Rights Reserved
From Sydney he sailed via the New Hebrides to the Philippines and Hong Kong where he was as intrigued by the Chinese as the local populous were in him, causing crowds in the street as he tried to paint. A fellow passenger kindly translated into English the Chinese shop signs in a street which Elwes displayed in pen and ink beside his watercolour.
Courtesy of a private collector | All Rights Reserved
Elwes appears to travel with a sheaf of letters of introduction. In Manilla he is invited to a fancy-dress ball and causes quite a stir amongst the socialites of the Philippines. He very much enjoys the attention he receives wearing the Gaucho costume he brought with him from South America. His homeward voyage took him to Bombay where he takes himself to the cave of the Elephanta and its monumental columns.
Courtesy of a private collector | All Rights Reserved
His homeward trip takes him to Aden and on to Suez by steamer. As his journey was before the building of the Suez Canal, he travelled to Cairo by two-horse omnibus which covered the 90 miles of desert in 12 ½ hours. At one of the stopping places he met up with his former cook with whom he had first travelled down the Nile. He returned home by Alexandria, Malta, Naples and thence overland to Rotterdam before the final ferry home.
Map of Robert Elwes' round the world tour (March 1848 – June 1850)
After his return, Elwes continued to travel extensively throughout Europe, North Africa and the Middle East often accompanied by his daughters whom he taught to paint.  Norway also became a favourite destination.  In 1864 Elwes travelled to the West Indies which he records in his book "W.S.W. A Voyage in That Direction".  In his later years when he ceased to travel, he re-painted his favourite scenes on china plates.  His debut on the WWW with The Watercolour World is a fitting celebration of the bi-centenary of this talented Victorian artist-explorer.
Courtesy of a private collector | All Rights Reserved